Website Migration Made Easy
We provide hassle-free website migration services that ensure a smooth transition from your old hosting provider to the new one. Our expert team handles everything from start to finish so you can focus on your business.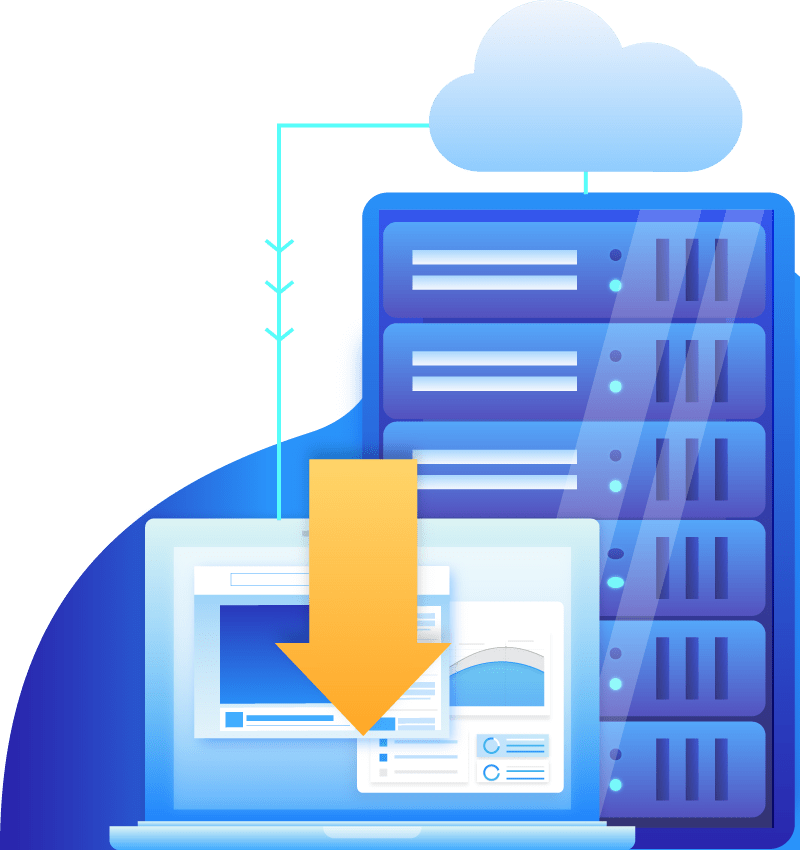 What We Offer
Our Professional Website Migration Services – Let Us Help You Seamlessly Transfer Your Website to a New Host

Efficient Migration
SiteHoppr understands the importance of a smooth transition when moving your website to a new host. That's why we employ the latest tools and techniques to ensure that your site is migrated quickly and efficiently, with minimal downtime.

Secure Backups
At SiteHoppr, we take website backups seriously. We provide complete backups of your site before, during, and after the migration process. This ensures that your data is always safe and secure, and you have a reliable backup in case of any issues. Our backups are stored on your own secure servers and can be downloaded at any time.

Safe & Secure
We know that your website is your most valuable asset, and we treat it as such. We respect your privacy and ensure that your data is safe and secure at all times. During the migration process, we don't store any of your data, so you can be confident that your information is always in safe hands. You can trust us to take care of your website, so you can focus on what you do best.

Talk to Us Before You Migrate Your Website!
Our migration experts are available to answer all your questions and provide personalized assistance to ensure a smooth and hassle-free migration. Chat with us now to discuss your migration needs and get a free quote.
What They're Saying
Customer Testimonials
I was hesitant to migrate my website to a new host, but sitehoppr made the process seamless and stress-free. They were always available to answer my questions and provided great customer support throughout the migration. I highly recommend their service!
I had tried to migrate my website on my own and quickly became overwhelmed with the process. That's when I turned to sitehoppr.com and I'm so glad I did. They not only migrated my site quickly, but they also provided personalized recommendations for optimizing my site's performance. Their expertise and attention to detail were invaluable.
I had been dreading the thought of migrating my website for months, but Sitehoppr made it a breeze. I couldn't believe how quickly and smoothly the whole process went. It was like chatting with old friends while they did all the heavy lifting. I highly recommend them to anyone looking for a stress-free website migration experience!
F.A.Q.
Frequently Asked Questions
What is website migration?
Website migration is the process of transferring your website's files and data from one hosting provider to another. It is important when you want to change your hosting provider or upgrade to a better hosting plan.
How much does website migration cost?
Our website migration service starts at $99. However, the final cost may depend on the complexity of your website and the amount of data that needs to be migrated.
How long does it take to migrate a website?
The time it takes to migrate a website depends on the size and complexity of the website. However, we usually complete website migration within 24-48 hours.
Can you guarantee that my website will not experience any downtime during migration?
We try our best to ensure that there is no downtime during website migration. However, there can be some minimal downtime in certain cases, such as when the DNS records are being updated.
Do you migrate all types of websites?
We specialize in WordPress website migration, but we also offer migration services for custom-built websites. Please contact us for more information.
What information do you need to migrate my website?
We will need access to your current hosting provider's control panel, FTP/SFTP details, and your website's database information. We will provide you with a detailed list of information required once you place an order.
Don't Miss Out!
We're offering a limited time promotion of 10% off on your first migration with us. The discount will automatically be applied to the invoice sent to you. Don't miss out on this opportunity to effortlessly migrate your website with us at an unbeatable price!